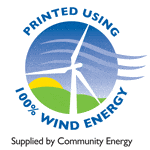 PITTSBURGH, PA – Broudy Printing Inc., an environmentally friendly printing and graphic communications company serving the Pittsburgh area, has entered an agreement with Community Energy to purchase wind energy and 'green up' 100% of its conventional electricity consumption with this clean, renewable energy.
Purchased as Renewable Energy Certificates (RECs), the wind energy is certified by the Center for Resource Solutions' Green-e renewable energy certification program. These RECs indirectly offset 355,000 pounds of carbon dioxide emissions from conventional electricity production processes that use nonrenewable fuel sources. The environmental benefit compares to not driving 387,511 miles in an automobile (139 drives between Los Angeles and New York), or planting 48 acres of trees.
Beyond these environmental benefits, RECs help build a market for renewable electricity ("green power" or commodity electricity bundled with RECs), increase energy diversity and security, reduce dependence on foreign energy sources, support domestic economies and create U.S. jobs.
With this latest commitment to 100% wind energy, Broudy Printing now gains entry in the U.S. Environmental Protection Agency's Green Power Partnership.
Broudy Printing is an environmentally friendly printing and graphic communications company dedicated to helping individuals and organizations promote themselves in more sustainable ways.