Do You Have A Printing, Mailing, or Fulfillment Project We Can Help With?
Heidelberg Presses for the highest quality
Our (4) 40″ sheetfed presses with 4 to 8 colors + coating, enable us to schedule jobs with the confidence to meet your deadline. The ability to move individual projects between presses or utilize both for a singularly large run, assures quick turnaround without sacrificing quality.
Eight-color Printing on a Heidelberg 28″ x 40″ Speedmaster 102 CD press with Autoplate, CP2000, infrared dryer, CIP3, Inkline system, coating tower and extended delivery. Prints up to 40 pt. board.
Six-color Printing on two Heidelberg 28″ x 40″ six-color Speedmaster presses. One features Autoplate, CP2000, infrared dryer, CIP3, Inkline system, extended delivery and coating tower. Perfect for packaging projects.
Five-color Printing on our Heidelberg 28″ x 40″ five-color Speedmaster press with infrared dryer. This perfecting press prints five colors on one side, three colors over two or two colors over two.
Four-color and Double-sided Two-color Printing on our Heidelberg 28″ x 40″ Speedmaster perfecting press with infrared dryer.
Dryers on our presses speed the work to completion. Double-size cylinders assure top quality on jobs requiring heavy ink coverage.
In-line Coating Aqueous services featured on our six-color and eight-color presses. We are experienced in both flood and spot coating applications including Soft Touch coating.
Custom Ink Blending services provided on-site by Wikoff using EcoLogo Certified inks.
| Press Type | Printing Units | Max Sheet Size |
| --- | --- | --- |
| Heidelberg CD 102 | 8-colors + Aqueous Coating | 28″ x 40″ |
| Heidelberg CD 102 | 6-colors + Aqueous Coating | 28″ x 40″ |
| Heidelberg SM 102 | 5-colors (w/ Perfector) | 28″ x 40″ |
| Heidelberg SM 102 | 4-colors (w/ Perfector | 28″ x 40″ |
| Heidelberg Versafire CP | 4-color (Digital Press) | 13″ x 27.5″ |
Short-run and on-demand digital printing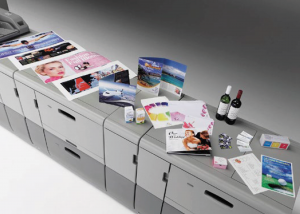 Broudy offers on-demand digital printing in small to medium runs, all with nearly the quality of traditional offset. Utilizing the innovative print technologies of the Heidelberg Versafire digital press, our clients realize faster turn-times and lower costs.
On-demand digital printing allows you to print only what you need when you need it, taking the guess work out of inventory forecasting and management. With on-demand printing, you can reduce the amount of inventory you keep on hand, eliminating obsolete, out-of-date materials and in turn improve your bottom line.
Learn about our Heidelberg Versafire CP Digital Press

Productivity at the highest level.
Versafire CP sets new standards in productivity, quality and availability. Its flexibility, scalability and a variety of inline finishing options make it the optimal solution for each run length – high or low. Short make ready times and high register and color accuracy ensure best results.
A class of its own.
Versafire CP provides first-class advertising and presentation materials as well as personalized print products, professionally bound books and brochures. The inline production offers a variety of solutions – from high capacity stacking, punching and foldingto perfect bound books and brochures. Even the most demanding materials can be processed. An innovative color toner having a low melting point increases the range of printable materials.
Key features at a glance:
Fast throughput up to 3,200 12 x 18 sheets/hours or 110 A4 sheets/minute (simplex)
Fine detail reproduction with 1,200 × 4,800 dpi with low temperature/high gamut toner
Vacuum suction feeder for secure media transport
Consistent production with elastic fuser belt and image-feedback system
New print applications with media up to 400 gsm even on structured media
High availability through up to 18,100 sheets tray capacity
Printing-on-Demand with optional finishing solutions
Output consistency between Offset and Digital with EFI Fiery E83 Digital Front End
Additional Benefits:
Rapid turn-times
Printing resolution of 1,200 × 4,800 dpi with low temperature/high gamut toner
Prints 3,200 13 x 19 sheets per hour
Prints on a wide range of specialty substrates – papers, transparencies, labels, plastic card stock, window clings.
Prints up to 13″ x 27″
Attention to every detail
Our bindery is an integral part of our endless commitment to delivering the highest quality product to our customers. We can handle all of your needs from saddle stitching, scoring, die-cutting, shrink-wrapping and much more.
In-house control means greater accuracy.
From start to finish, Broudy has in-house control over your important printing projects insuring your projects are a success. Our capabilities include:
Die-cutting provided by a Bobst 102-E (2003) Autoplaten diecutter and two 25″ x 35″ Heidelberg SBDZ Flatbed units.
Folding offered on our 16 page Stahl 30″ x 40″ folders.
Saddle Stitching provided on a Muller Martini stitcher with six pockets and automatic cover feeder.
Pocket Folding and Gluing for flat and capacity pockets provided on our Moll automated equipment. Hot or cold glue processes available.
Paper Cutting on two Polar EMC 99 programmable cutters, with air tables.
Coil and Wire-O binding
Paper Banding & shrink wrapping
Your Postal Partner
For over 50 years Broudy has partnered with our clients to solve their direct mail challenges. Our expertise, technology and knowledgeable staff will guide you through all aspects of your direct mail campaigns.
Inkjet Mailing System using BCC Software's Mail Manager 2010 software with graphics versioning, utilizing customer lists for optimized mailing. Used in combination with our automatic wafersealing machine to provide postal-ready, finished pieces.
In-house control means greater accuracy. Direct Mail is the fastest growing and most effective way to reach your customers and prospects. Our knowledgeable and friendly staff can navigate you through the latest postal regulations for the lowest rates and best results. Broudy offers complete in-house mailing services to meet all your mailing needs including:
List and Database Management
List Procurement
Permit Management
Ink-Jetting or Labeling
Inserting
Tabbing/Wafer sealing
Just the services you need to take the project to completion.
Warehousing with inventory control and distribution service.
Package Assembly customized to your requirements.
Pick & Pack services with rapid turn-around.
Fulfillment programs supported with complete documentation.
Manage your fulfillment programs with our Online Ordering & Fulfillment Systems
The latest software and technology
Workflow AGFA Apogee Suite of workflow management products. Centralized handling of all stages of the prepress workflow including ripping, trapping, ink management, imposition, soft-proofing, hard-proofing and plating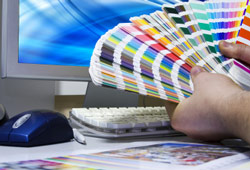 Cross-platform compatibility (Macs and PCs)
Digital asset management and offsite backup
Color optimized for the paper you choose.
Final Output on an AGFA Avalon Platesetter.
Proofing on 2 Epson Stylus Pro 9900 contract proofing system and 2 HP Designjet T770 Proofers, and an ImpoProof system for imposition proofing
Broudy is quick to adopt software and tools to enhance and improve your color images.
Application Support for all popular page composition and design software including Adobe Creative Suite.
Make your print personal
Broudy Printing also offers variable information printing with the Heidelberg Versafire Digital Press, providing true one-to-one marketing solutions. With the ability to merge variable text and graphics, we can digitally print and design the ultimate full-color marketing piece directed to specific individuals. By uniquely personalizing and customizing your marketing literature, you can target individuals and businesses based on desired criteria more effectively leveraging the value of your advertising and marketing dollars. Variable information printing allows you to reach your customers, prospects, and other audiences through materials that convey a truly individualized look and language.
Want to streamline your workflow while reducing costs?
Broudy has the answer. We can set up a secure state of the art customized website designed to meet your organization's business and branding rules as well as your print and ordering needs. Your authorized users can visit the site, customize and choose the pieces they need, click and order. It's that easy.
In addition, fully customized marketing and business materials can be composed and processed from any remote location. Our cleints use our systems to keep costs down and insure proper branding. Instead of having to call headquarters and feed orders to the marketing department, which has much greater duties to perform, users can go to a dedicated website, place and pay for their order. No sweat.
Web-to-Print Benefits:
Brand Consistency
Customized Content
Digital Asset Management
Control of Time and Cost
Customized Billing and Usage Reports
Real time activity Reports
Database Management
Request a Demo
Web to print solutions are powerful when it comes to printing.  Contact us to schedule a demo and we will show you how our web to print solutions can save you time and money, while maintaining consistency and quality.
At Broudy, our work is the result of a process – a consistent application of the highest standards and meticulous attention to customer service. This process requires our investment in the best production equipment. Although this equipment is described below, it is how we make use of it that sets our work apart.
Trusted Partners
Here are some of our partners. Many have been working with Broudy for over 15 years!
Need help determining the best size, paper, printing method, binding, and quantity for a project? Just give us a call! Our planners are great at helping you plan the optimal job to achieve the best overall results, while also keeping your overall cost within budget.