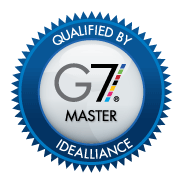 Broudy Printing is proud to announce our qualification as a G7™ Master Printer! The G7™ practice is a proof- to- print process developed by IDEAlliance, an established industry organization that works to develop, educate and validate advanced specifications, ISO 12647 print, standards and best practices in publishing and information technology.
With this new certification, our customers will enjoy:
More print predictability- a consistently close visual match from proof-to-press
A more efficient workflow for our Color Management which, in turn, produces a better quality product off our presses
Faster make-readies, which will promote more efficient production
The GRACoL 7 Master Printer program requires companies to undergo an audit process of press color measurement equipment, process control procedures, and quality of printing to qualify for the GRACoL 7 Master Printer program. Once qualified, Master Printers must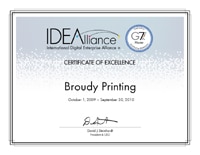 be re-evaluated yearly to ensure specifications based on ISO 12647 print standards continue to be met. Using the G7 method, Broudy will immediately begin to notice cleaner colors with a richer, wider color range that maintains the file's original color appearance.